Gas Engine Technology (G.E.T.) certification/seminar
October 15, 2018 @ 8:00 am

-

October 19, 2018 @ 5:00 pm
G.E.T. (Gas Engine Technology) Seminar / Certification
You can get more information on this course by downloading the course brochure and going here for booking details
The Waukesha Training course will be held from October 15-18. An exam will follow on October 19, for certification from GE Waukesha. A detailed schedule of the course can be found here.
To register, please fill out the GET Registration Form
20 seats are available on a first come first serve basis
Instructor: Alasdair McGillivray Tait, Training Specialist, Souer Co., Ltd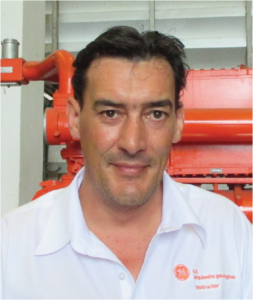 Courses: GET and ESM Languages: English
His background for the last 21 years has been in education, management, teaching and development. While
managing Souer Co. Ltd's Training Centre, Alasdair also oversees the customer repairs & overhauls, assists in
hands on workshop duties, writes the condition & overhaul reports, and updates ISO documentation for the
workshop.
Alasdair received the accolade of becoming a GE Waukesha Gold Certified Technician in August 2011 after
successfully completing seven GE Waukesha training courses. During the same month he also successfully
passed his GET audit, becoming a GE Waukesha Authorized Technical Trainer. Since then Alasdair has also
become certified to conduct ESM training courses.
Souer Co., Ltd has developed GE Waukesha's most advanced ESM simulator, which has benefited students
greatly since it's launch in 2010.
Alasdair is available to travel internationally to deliver training at customer premises and has conducted
courses in Europe and Asia.
NC – Business Studies – Langside College,
NC – Sport and Recreation in the Community – Glasgow College
TEFL (Teaching English as a Foreign Language) Accreditation
For more information on this course and GE courses please see the Waukesha Training Catalog 2017.
If you have any questions please contact Victor Sanchez.